Save money by buying direct from the
ORIGINAL money booth manufacturer and inventor!
We offer a FIVE YEAR GUARANTEE on all products, and we will beat ANY price!
Money Blowing Machine Promotions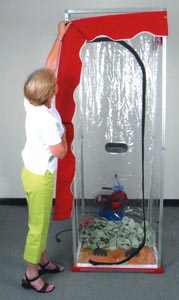 The Money Blowing Machine was patented in 1998. Inventor Lee Roberts offers manufacturer direct savings with a 5-year warranty to achieve exciting fun at discounted prices - in fact we will beat ANY competitor price on swirling cash cubes.
lrmoneymachines.com offers all of its products globally and each product undergoes rigorous inspection after assembly to assure top end quality control in each product we ship.
Our Money Blowing Machine, with its swirling tornado of cash or coupons, draws attention to your event and makes it one of the best promotions for any kind of company.
For example, a car dealer or real estate agent, or a financial institution hosting a promotion encouraging people to 'hold on to their money' would be excellent uses.
Put Our Promotions To Work For You
Any type of grand opening would benefit from the Money Blowing Machine – it's always a crowd-pleaser. Trade shows, radio station events or fundraisers often utilize the Money Blowing Machine to aid in the success of their event. Another application would be for a casino or even a company promoting a casino night. Nightclubs or bars that would like to increase the number of people into their establishment for the night would benefit from setting up the Money Blowing Machine near the entrance of their business.
Flea markets, sporting events, malls, private and corporate parties, grocery stores, furniture stores, and so many more business can utilize the Money Blowing Machine to increase exposure and sales. Even non-profits such as schools and churches, perhaps hosting a carnival, would enjoy the benefits of the Money Blowing Machine for their events. It even makes a great incentive for your sales team!
You can use most any paper in the Money Blowing Machine including coupons, real money, faux money or gift certificates.
The Money Blowing Machine is affordably priced and allows you to customize your machine with your logo or event name on it.
The Money Blowing Machine also has great rental value for rental stores that would like to expand their line of promotional products offered for rent.

If you need money blowing machine promotions then give us a call at (386) 871-2625 or fill out our contact form.